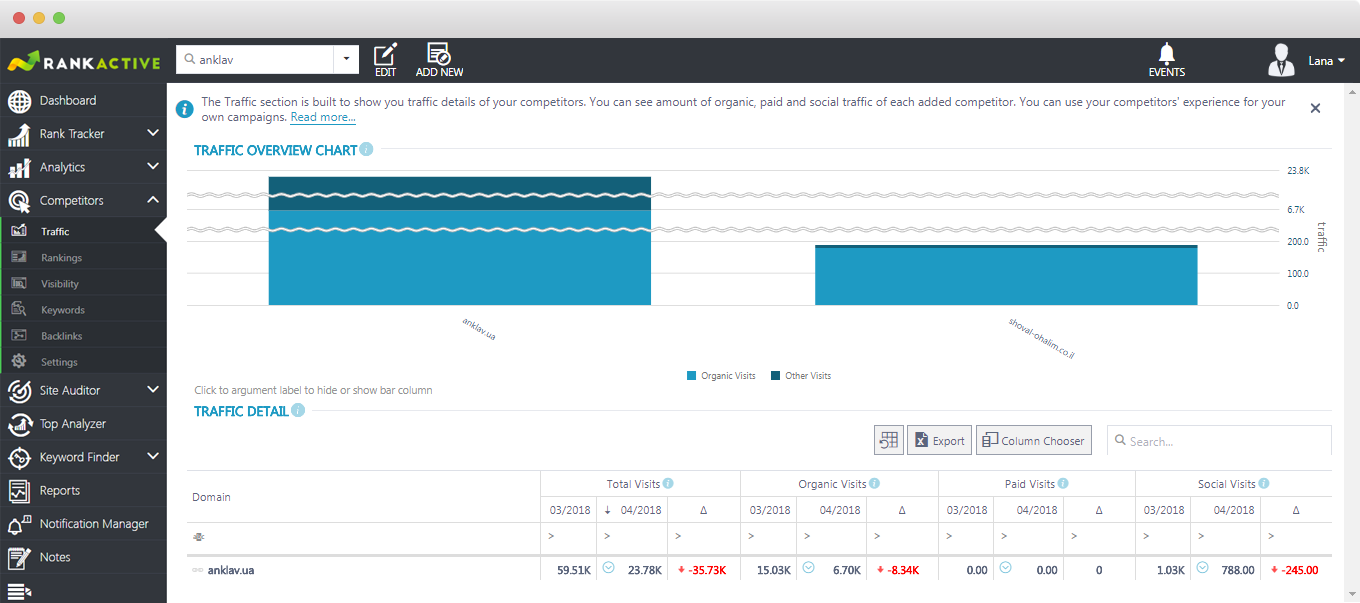 Traffic section consists of two parts, each part provides information regarding your project and your competitor's projects, which is taken from SimilarWeb for 1 month.

Why do I need to use Traffic Overview Chart?

In this section, you can find the amount and percentage of organic and other visits for your project and your competitors. The light blue section is for organic and the dark blue section is for other, just hover one of them and you will see the number and percent of visits for 1 month.

What types of traffic does Competitors Traffic section show?

Traffic details will show you such additional information as:
Total amount of visitors for the previous month and current month and their delta. If you click on the sign you will be able to see the top 5 countries of visitors.

Organic visits are also represented in the details the same way as the total visits. If you click on you will see the top 5 keywords, which brought more visitors.

Paid visits. After clicking on you will see the data regarding paid visits.

Social visits and by clicking on check the top 5 websites, where your competitors place their links.

Referral visits (information about traffic from other sites)is placed in "Column Chooser", you should click on this option, after that hover on the "Referral visits" and drag-and-drop to the table. If you click on you will see the total amount of referral visits and also 5 websites, which brought you more traffic.
Where can I find parameters to analyze the competitors' user behavior?
You may also pull out additional table parameters by using the Column Chooser. So far, it contains the following indicators:
Time – average duration of visits – it may help to understand, which competitor got the longest visits to undertake the experience afterwards.

Page views – average number of page views per visit, which shows how compelling and easy to understand your and your competitors' content is.

Bounce rate is the average value for all website visitors. It indicates the percentage of visitors, who visited a website and then left it without viewing any other pages.



And one more advantage, you can download the data for each individual page in the Excel format.
---