Keyword Finder
Keyword finder is built to show the keywords for which your website has rankings and to provide you with possibility to build up a list of keywords you can use to develop strong SEO strategy.
Keyword finder helps you to get keywords data in a few moments. Keyword finder is the part of the RankActive All-in-One SEO Platform. Try it now!
Schedule live demo
Try For Free!
How does it help? Is it suitable for my business?
How does Keyword Finder help?
Keyword finder will help you to focus on those keywords which bring the real positions and to build the keyword list that is the most relevant to the thematic of the SEO strategy. Using this tool, you will get the possibility to get those keywords that will guarantee the success of your outstanding content. The sandbox will let you save important terms and use them later for monitoring of website rankings.
With Keyword finder you can conduct keyword research to improve existent promotion strategy without any efforts taken.
Whom is this product for?
Keyword finder can be used by any business. For every website.
But It is best for:
SEO experts and agencies
SERM agencies and freelancers
Inbound marketers
Business owners
The best way to discover Keyword finder is to see it in live mode. Please note that some features, like Google Analytics, are not available in Demo account. To try all power of RankActive - please register for FREE Trial.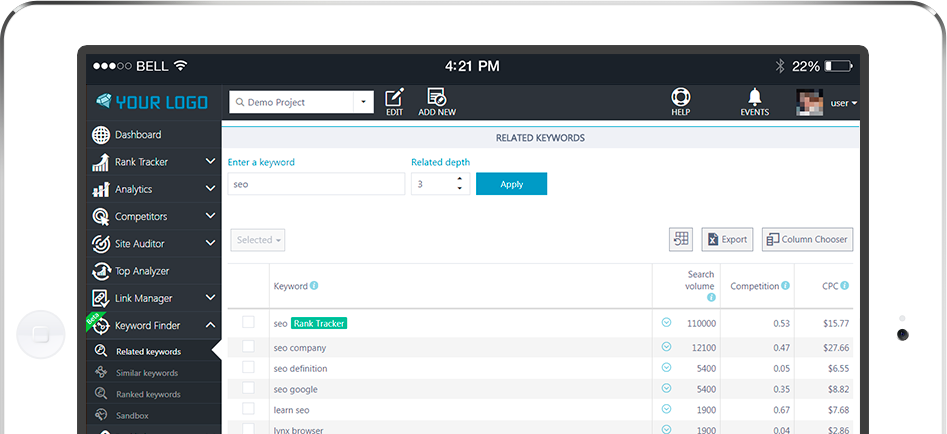 Amazing features for your success
Quick keyword research
Get the list of keywords that are similar or/and related to a specified term in just a few seconds

Access to ranked keywords
Check keywords for which a website has rankings and add them to Rank tracker to monitor their performance

Efficient data analysis
CPC, ETV, Search volume and more data will help to build the most efficient list of keywords

Improve your SEO-work today!
THE MOST EFFICIENT KEYWORD FINDER

Huge database
More than 100 million keywords available

Fast response
Get ready-to-use keyword list in a few moments

Convenient functionality
All data is clearly presented and easily accessible
Improve your SEO-work today!