The primary purpose of the Opportunities section is to provide the full list of the keywords which website is ranked for in TOP-100. It can help to analyze the ranking perspectives of the website.
The section is divided into three parts: search boxes, pie charts and graphs, and the table with keywords.
To start the keyword research, select a necessary country from the drop-down list in the Select a country search box. Then choose the appropriate language in the Select a language box. After setting the parameters, click the Apply button.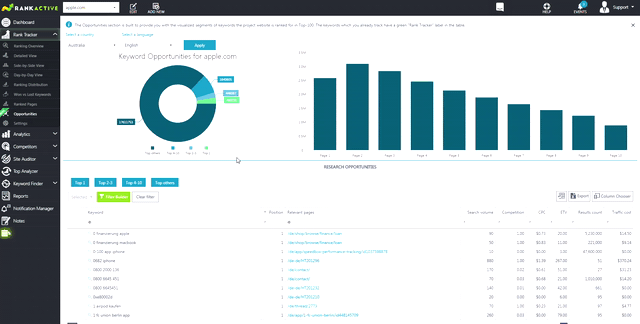 The pie chart shows the division of ranked keywords by Top 1, Top 2-3, Top 4-10, and Top 11-100. Each segment is painted in a particular color and shows the total number of keywords for the specific TOP.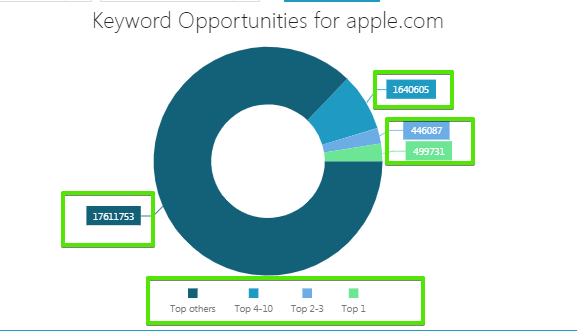 The graph visualizes information related to the division of ranked keywords between the 10 SERP Pages. A certain amount of keywords on each SERP page is also shown here.

The table in the third part of the section shows all the keywords which your website is ranked for. Alone with each key section provide a lot of parameters that can help to analyze prospects for using each word.
Here's a list of data points available in the table:
Keyword – the column provides a full list of keywords that your site is ranked for in TOP-100.
Position – column shows the specific position of your website according to the keyword.
Relevant pages – here, you can find the url of the specific page (without domain part), which is ranked for the key.
Search volume – shows the search frequency indicator, depending on the specified location and language. The parameter helps to understand how beneficial it is to use this key to receive traffic.
Competition provides the competition rate value, which allows understanding of how difficult it is ranked for a particular word. The value of the parameter can vary from 0 to 1.
СPC (cost-per-click) – shows the price which should be paid for each click on this keyword.
ETV (estimated traffic value) provides with the predicted amount of traffic. This value is based on search volume for the keyword and website's position.
Results count column shows the total number of the results in the SERP according to the keyword, location, search engine, and language.
Traffic cost – this parameter shows the estimated price for paid traffic if you run a PPC campaign. Also, it helps to analyze how profitable your current SEO-campaign.
Autocorrection – shows if this keyword was corrected by the search engine and for which keyword.
SERP Elements – provides with extra elements that also present in the SERP according to key, location, and language.
How do I add or remove columns from the table?
Open Column Chooser
Tick the necessary column in the list
Close the Column Chooser window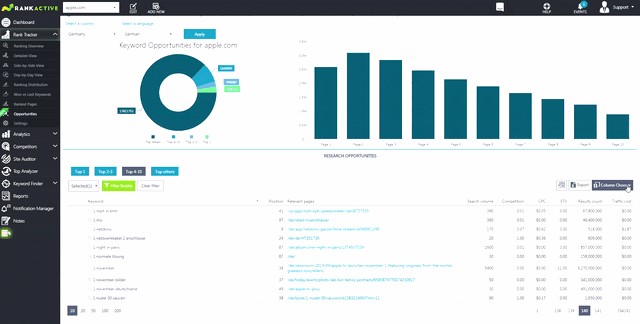 How do I create a filter?
Click the Filter Builder button
Start the creating of the new filter by clicking the Add (+) button
Choose Add Condition (allow to create a separate rule) or Add Group (enables to create a group of rules which are connected) option
Click the "Keyword" part of the rule to open the drop-down list and choose the necessary parameter for the rule
Choose the Condition for the second part of the rule
In the third part of the rule should be specified the required value for this rule (word or number)
Click the Apply Filter button