White-label
White-Label feature is built to give you an opportunity to use our product under your own brand.
With White-Label you can bind your subdomain to your account, set up your logo and description.
Schedule live demo
Try For Free!
White Label: video overview
How does it help? Is it suitable for my business?
How does White-Label help?
White-Label helps to get loyalty of your customers. Your brand logo and description are set in software interface and all reports; your own subdomain can be given to your clients; your own SMTP-server can be used to send all the reports.
RankActive steps back in shadow and pushes your Brand to the light.
Whom is this feature for?
White-label feature is best for:
SEO agencies
Freelancers in SEO field
Inbound agencies
The best way to discover RankActive White-label feature is to see it in live mode. Please note that some features, such as Google Analytics, are not available in Demo account. To try all power of RankActive - please register for FREE Trial.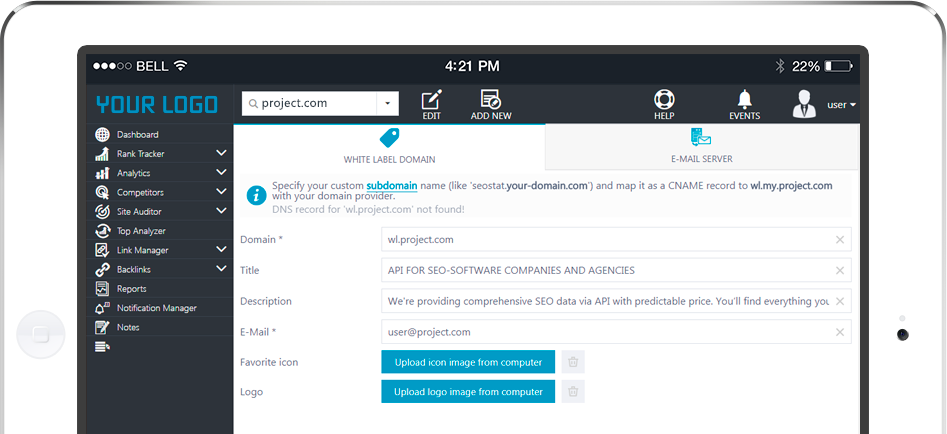 Amazing opportunities for your success
YOUR OWN SUBDOMAIN
Bind your own subdomain and give it to your customers
YOUR LOGO
Upload your logo and all your customers will see it in UI
YOUR DESCRIPTION
Create your description and all users will see it at Login page
BRANDED REPORTS
After you activate White-Label, all reports will be branded with your logo and description
Improve your SEO-work today!
Improve your SEO-work today!
What is White label?
A few years ago the revenue of the company was the only thing any business owner cared about. Now everything changed, and every single customer and their satisfaction matter a lot. Everyone is looking for the magic secret that will help them to succeed easy and fast. And there is one.
Modern SEO specialists consider every single detail of their work to make clients happy. Those tiny things are not only about improving the rankings in different search engines, increasing of organic traffic from Google, completion of the goals or fixing on-page errors on a customer's website. There is one more important thing that is critical for the building of trust and fruitful partnership with clients - the SEO reporting. Many tools have such functionality, but only a few of them provide the White Label feature. With its help, any SEO or marketing company can create branded reports instead of the standard ones without taking any efforts. Both sides win in this case, loyal customers see that they do business with serious guys that have informative, detailed reports and an SEO agency gets additional authority points without building their own rank tracking platform or sending reports with a name and logo of an unknown (for customers) company. No money, trust or time lost, only benefits.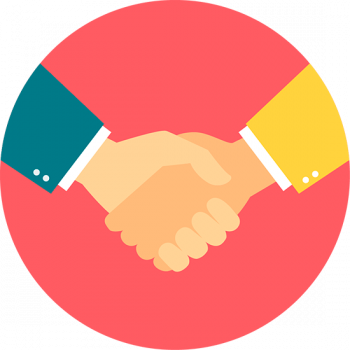 Why should I use White label?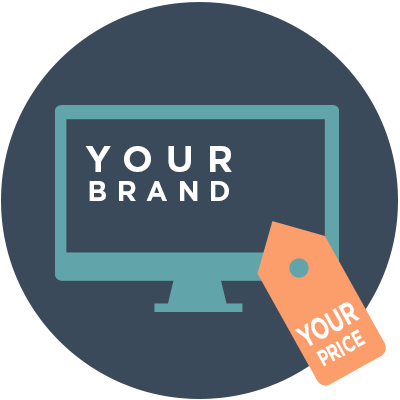 White label is a very popular feature among SEO specialists and agencies. It provides a possibility to get a fully supported product or service made by another company. In simple words, you can customize the product with your own brand, logo and description and the customers will associate this product with your company.
Considering the next few points, you will be able to understand why you need to white label RankActive platform:
Timesaver on researching. You don't have to reinvent the wheel and gain new experience by making mistakes.
No money spends on developing tools and investing in solutions that are similar to the existent ones.
Straight access to data for customers from the white labeled (branded) login page with company's name and description.
Additional loyalty points from clients who receive informative branded reports.
The last but not the least benefit is that with White Label you get more time to focus on the business development and work with clients.
Is it difficult to set up White Label?
Even though the "White Label" word-combination may sound very tough, in real life, it is one of the easiest customizations you have ever made.
The process is simple and usually, takes up to 5 minutes. It includes a quick creation of a CNAME record at your domain/hosting provider. There you will be able to specify your custom subdomain for the domain of your website and thus create the address for a login page. After this step is completed, you can add your company name, description, and upload logo. And that's all! The platform is ready to be used under your logo, and your clients will sign in at the branded login page. No hints about third-party software will ever appear anywhere.
Also after setting up, you will be able to use branded reports for your marketing purposes. Just add a scheduled report or generate a quick one and send it straight to your clients. Therefore, you are only 5 minutes away to the looking trustworthy in your customer's eyes.