White Label
Use RankActive under your own brand
With White Label you can bind your subdomain to the account and mark the entire platform with your custom logo and description
White Label: video overview
HOW DOES IT HELP? IS IT SUITABLE FOR MY BUSINESS?
HOW DOES WHITE-LABEL HELP?
White-Label helps to get loyalty of your customers. Your brand logo and description are set in software interface and all reports; your own subdomain can be given to your clients; your own SMTP-server can be used to send all the reports.
RankActive steps back in shadow and pushes your Brand to the light.
IS WHITE LABEL FOR ME?
Although White Label can be adjusted to the needs of any business, it's best for those who need to provide branded reports to their end-customers. Therefore, this feature is best for SEO agencies and freelancers.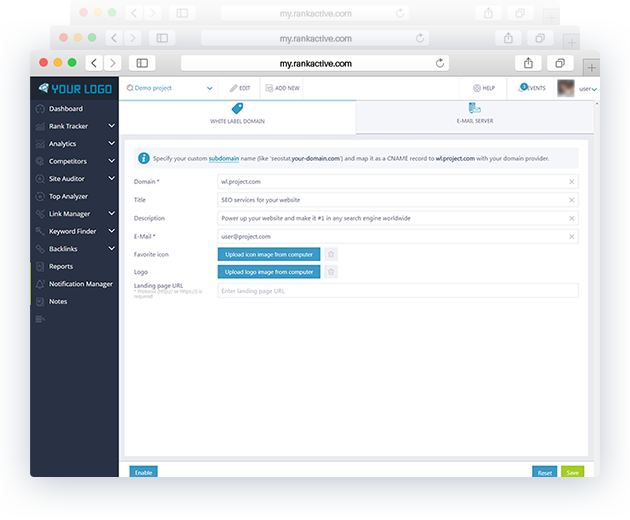 See It In Action
A picture is worth a thousand words.
See how White Label can help to grow your business!
AMAZING FEATURES THAT DRIVE SUCCESS
CUSTOM SUBDOMAIN
Bind your subdomain to use our platform under your own brand
CUSTOM LOGO
Upload your brand's logo to empower user satisfaction
CUSTOM DESCRIPTION
Create a custom Login page with a branded description
CUSTOM REPORTS
Create branded reports and send them from your own email address.
TRY OUT THIS GAME-CHANGING FEATURE!
Give your website a boost today!