This section is designed to give you a possibility to compare the keywords data across various search engines.
The side-by-side view consists of two parts: an overview chart and details table. Let's take a look at each of them in turn.

SIDE-by-SIDE OVERVIEW CHART
Overview chart provides information about the percentage of keywords listed in various TOPs of different search engines for a particular period of time.
Here you can select a desirable timeframe, switch between several TOPs and search engines, as well as update the data by clicking the Update Rankings button.
Please note that the data will be recollected for ALL search engines added to the project.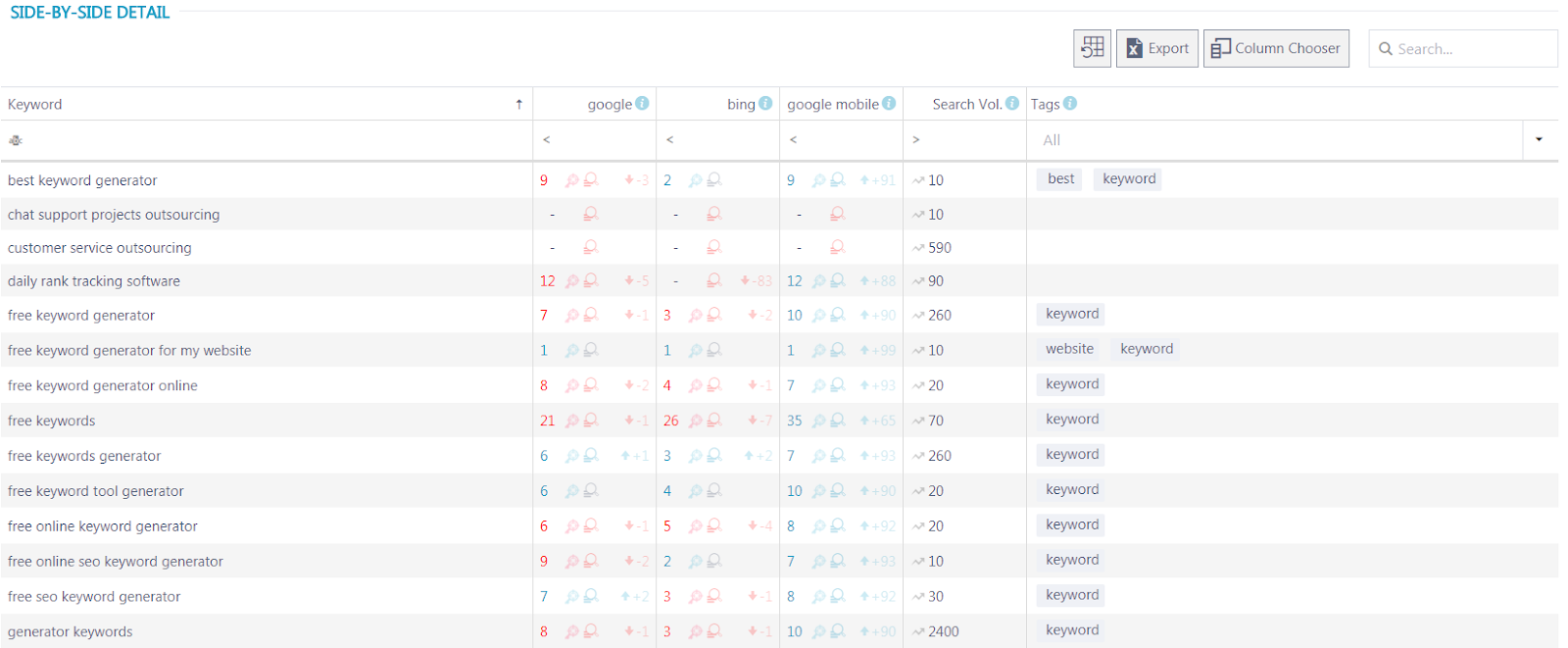 Here you can compare the rankings of a particular keyword according to the added search engines. You will also find values of such parameters as Search Volume, ETV, KEI, Competition, Traffic Cost, and CPC.
Please note that these parameters are displayed for a default search engine.

Use Column Chooser to pull out additional columns.
Added gives the exact date when a certain keyword was added.
Competition indicates the demand for a certain keyword obtained from Google AdWords, i.e. the higher the competition rate, the more difficult it will be to rank for a certain keyword.
CPC (Cost per Click) refers to the recommended bid for a particular keyword, according to Google Adwords.
KEI (Keyword Efficiency Index) shows what keywords are likely to generate more traffic.
Click here to learn more on how KEI is calculated
ETV (Estimated Traffic Value) help to estimate the traffic you can get to your website.
Click here to learn more about ETV
Traffic Cost shows how much paid traffic would cost in case you conduct a PPC campaign; allows you to estimate how successful your SEO-campaign is, and, if necessary, make a decision on the budget reallocation.
Tags — here you will find all the tags assigned to certain keywords. Check out the Rank Tracker settings section to learn how to assign tags.
Search Vol. — indicates the demand for a particular keyword in the framework of the selected search engine, language, and location. Furthermore, by clicking on the corresponding icon next to the value, you can check out the Search Volume History. You'll see the pop-up with the graph indicating the search volume for the last twelve months. All the data is taken from AdWords.
---