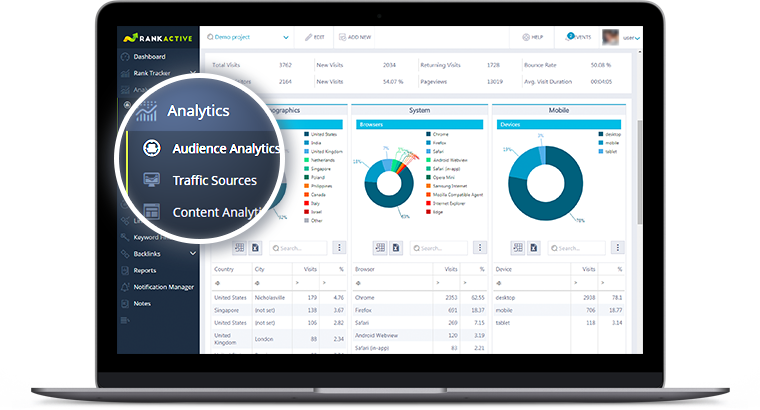 Website analytics
Watch all Google Analytics data at a glance.
Website Analytics brings new meaning to your Google Analytics data.
Website analytics: video overview
HOW DOES IT HELP? WHAT WILL WEBSITE ANALYTICS DO FOR MY BUSINESS?
How does Website analytics help?
Website Analytics helps to better understand who your visitors are, how they interact with your website, and where you get them from. This tool will also help you to find out what pages of your website are the most popular.
With Website Analytics you can easily get valuable insights into your website's audience, content, traffic sources, and conversions directly to your inbox.
IS WEBSITE ANALYTICS FOR ME?
Analytics is one of the most important things for any online project. That's why Website Analytics is a must-have tool for any business. You don't need to open Google Analytics to get essential info about your website performance. You favourite all-in-one platform has it all!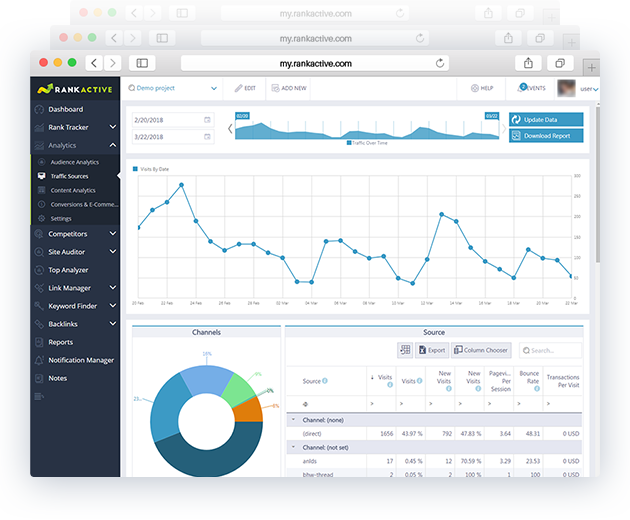 See It In Action
A picture is worth a thousand words.
See how Website Analytics can help to grow your business!
AMAZING FEATURES THAT DRIVE SUCCESS
EASY INTEGRATION
One-click integration with your Google Analytics
REAL-TIME DATA
Instant updates of your website's analytics
SCHEDULED REPORTS
Get reports with valuable analytics straight to the inbox at your convenience
GET IT OFFLINE
Export your Website Analytics to .xlxs or .pdf in a single click
TRAFFIC
Get comprehensive analytics about your organic, paid, social, and referral traffic
CONVERSIONS
Get a complete picture of your conversion rate and e-commerce efforts
AUDIENCE ANALYTICS
Find out more about your website visitors: who they are, where they come from, and how they interact with your website.
TRAFFIC SOURCES AND CONTENT
Discover what your main traffic channels are and find out more about the most popular pages of your website.
TRY OUT THE MOST EFFICIENT WEB ANALYTICS TOOL!
Give your website a boost today!