Account Access Management
Organize your team and save money with Account Access Management
Share access to your project with team members and control admissions with RankActive
Account access management
HOW DOES ACCESS MANAGEMENT HELP?
Account Access Management allows various team members to work on a single project.
No additional accounts and no extra money. Just grant a project access to your team, control the admission level and speed up SEO efforts.
IS ACCOUNT ACCESS FOR ME?
Account Access management can be an irreplaceably useful feature if you have a big team, or dealing with an extremely demanding client who wants to control the entire SEO progress. Although Account Access Management can be used by any business, it comes in handy for SEO agencies, inbound marketers and freelancers.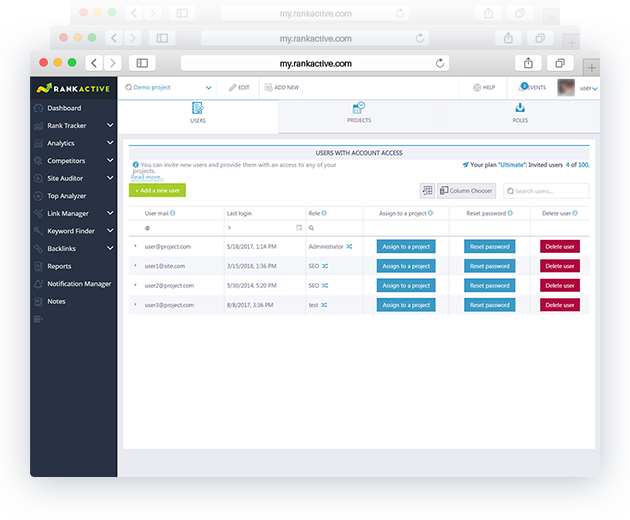 See It In Action
A picture is worth a thousand words.
See how Account Access Management can help to focus your team's efforts!
AMAZING FEATURES THAT DRIVE SUCCESS
ACCESS DISTRIBUTION
Control the level of access to your projects
CUSTOM DATA TO SHOW
Select what data you want to show a user
AGENCY LOGIN PAGE
With activated White-label you have Login page on your own domain
CHOOSE USER'S ROLE
You have an ability to select user's permissions by choosing default or custom role
TRY OUT THIS GAME-CHANGING FEATURE!
Give your website a boost today!