Competitors inspector
Competitors inspector is built to find your competitors and track their traffic, rankings and visibility.
Competitors inspector helps to be always one step ahead!
Competitors inspector is the part of the RankActive All-in-One SEO Platform. Try it now!
Schedule live demo
Try For Free!
Competitors inspector: video overview
How does it help? Is it suitable for my business?
How does Competitors inspector help?
Competitors inspector helps you to understand: what's going on with your competitors? What amount of traffic do they have? What is your ranking in comparison to competitors'?
With Competitors inspector you can make the detailed research of your direct competitors' activity and use their best techniques for your own benefits.
Whom is this product for?
Competitors inspector can be used for any business. For every website.
But It is best for:
Inbound agencies and marketers
SEO/SERM agencies and freelancers
Business owners
The best way to discover RankActive Competitors Inspector features is to see it in live mode. Please, note that some features, f.e. Google Analytics, are not available in Demo account. To try all power of RankActive - please register for FREE Trial.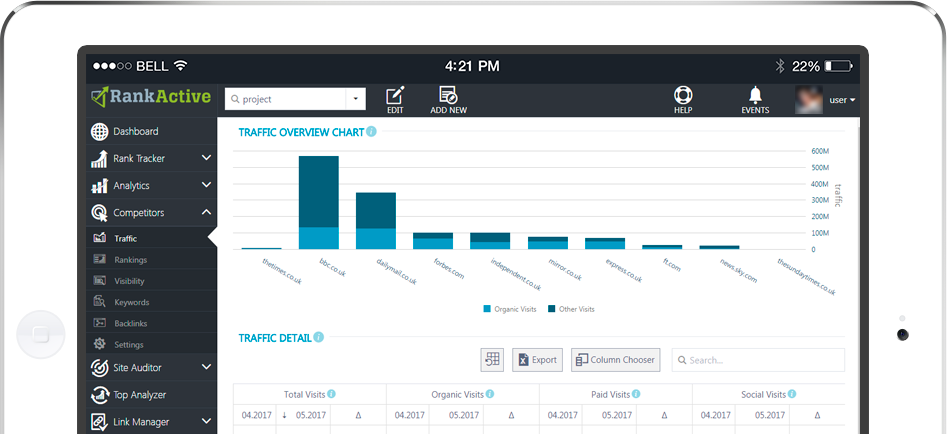 Amazing features for your success
BACKLINKS COMPARISON
Compare your website with competitors on such parameters as: total backlinks, strength of backlinks profile etc.
SPECIFY YOUR COMPETITORSG
You have a possibility to add your competitors manually.
TRAFFIC ANALYSIS
Analyze your competitors traffic (organic, paid, social) and compare this information to your website data.
RANKING ANALYSIS
What is your ranking in comparison with competitors? We know the answer!
VISIBILITY COMPARISON
Compare your website with competitors by visibility in search engines.
AUTOMATIC DATA UPDATES
Information related to traffic is updated once a month. Information about rankings and visibility is updated once a week.
EXPORT ALL DATA TO XLSX
You can export all information to the Excel format.
DYNAMICS OF ALL VALUESS
You can see the changes of values over the time. Compare your website growth with competitors.
Improve your SEO-work today!