In this section, you can see the analytics of your content by page views and exit rate. The summary data, the diagram of Top 10 first level page views and the table of Top 100 pages will help you to understand better if you need to make some changes to the content of your website.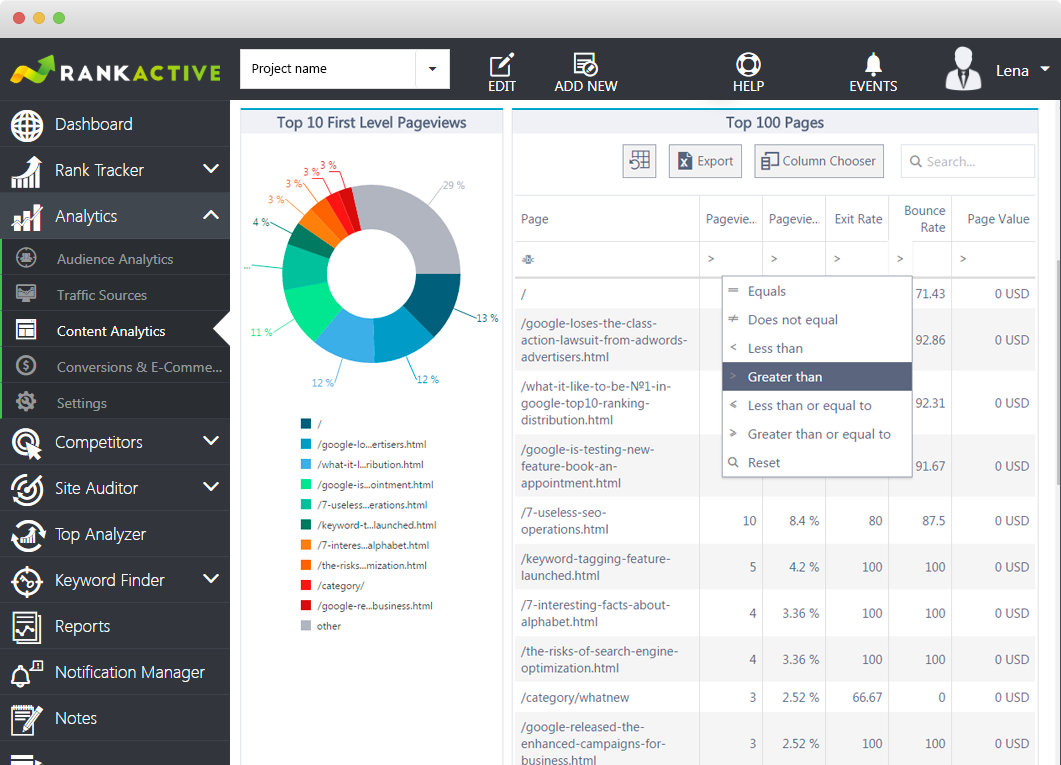 What is the difference between Pageviews and Entrances metrics?
Page views are the total count of how many times any user lands on an individual page on your website. This includes repeatedly landing on the same page during one session, so if a user refreshes the page, this counts as an additional page view on your site.
Unique page views is a number that will tell you how many times a page was accessed at least once during a session. In other words, it doesn't count multiple views of a page by the same user in the same session, instead of treating them as a single view.
Entrance is recorded by Google Analytics for each page that a user begins a new session on.
So the number of entrances given for a specific page shows how many users began their session with that page.
What is the difference between Bounce Rate and Exit Rate and how are these metrics calculated?
Bounce rate is the percentage of visitors who come to your website and leave without viewing any other page.
For example: Someone views your product page and then immediately exits.
So a low bounce rate – below 40% – is actually a good thing. It means visitors are viewing multiple pages per session.
A high bounce rate – above 60 % for content sites – is when you need to be concerned.
Bounce rate metric is calculated by the following formula:
Rb = (Tv / Te)*100%,
Rb – bounce rate
Tv – total number of visits viewing one page only
Te – total entries to a page
Exit rate shows the percentage of visitors who end their session or leave the website after viewing that particular page.
This metric is calculated by dividing the number of 'exits' made from the page by the number of page views it has, to determine what proportion of visitors to that page leave it after visiting.
Re = (Texists / Tviews)*100%,
Re – exit rate
Texists – total exits from a page
Tviews – total visits to a page

How can I sort pages by bounce rate value so I could retrieve only those which have positive or negative bounce rate metric?
To perform this, enable special filter functions which are embed in the header row of the spreadsheet.
To sort pages by a low bounce rate, apply "< 40" operator.
To sort pages by a high bounce rate, apply "> 60" operator.
How do I expand my data spreadsheet with additional fields?
Column Chooser button hides a set of extra table fields which stand for other metrics that could ease your website's content analysis.
How do I download an overall report from this section?
To download a report, find and click which is in the upper right corner of the page. Once you click it, select a file format you need to get your report in. There are two options for downloading a report: by PDF or Excel.
A default date range of generated report is relevant to a recent month, however, the system allows you to customize it if you want to browse your statistics by different time interval.
---