Top Analyzer
Top Analyzer is built to provide you with the detailed data for analysis of TOP 10 website from the SERP of any search engine.

Schedule live demo
Try For Free!
Top Analyzer: video overview
How does it help? Is it suitable for my business?
How does Top Analyzer help?
Top Analyzer will give you a possibility to take a closer look at the TOP 10 websites that are ranked for the keywords you want to use for your strategy. Get the insights of page's title and description, number of backlinks to a domain and the page that was found, and much more. Conduct an efficient analysis and build your SEO strategy based on its results.
With Top Analyzer you can analyze big amount of data in a few minutes without using any additional tools. Update your SEO strategy to receive incredible results.
Whom is this product for?
Top Analyzer can be used for any business. For every website.
But it is best for:
Inbound agencies and marketers
SEO/SERM agencies and SEO-freelancers
Business owners
The best way to discover RankActive Top Analyzer features is to see them in live mode. Please, note that some features, such as Google Analytics, are not available in Demo account. To try all power of RankActive - please register for FREE Trial.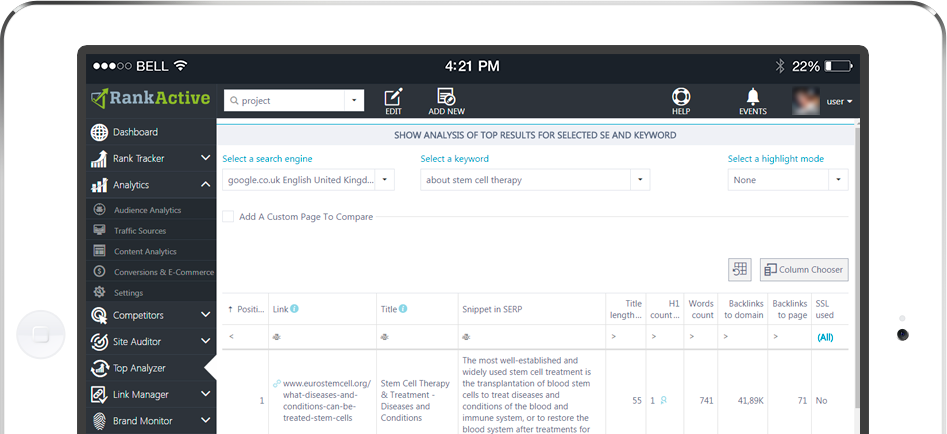 Amazing features for your success
MOST POPULAR SEARCH ENGINES
Check results in the most popular search engines.
ON-PAGE ELEMENTS DETAILS
Title, description, H1, H2, H3 tags, canonicals, presence of Frame or Flash elements and more data.
PAGE SPEED ANALYSIS
See how long each page of TOP 10 results loads.
BACKLINKS INSIGHTS
Check how many backlinks any of found pages and their domains have.
HIGHLIGHT MODE
See what exact words from a provided keyword phrase were found.
QUICK RESULTS DELIVERY
Choose a keyword, a search engine and analyze the results straight after that.
Improve your SEO-work today!