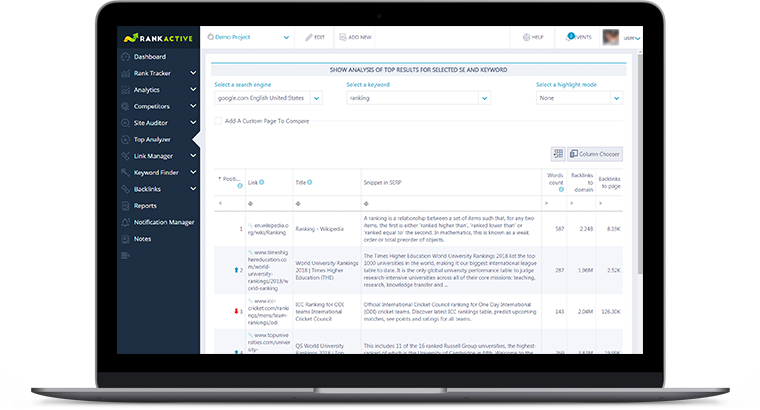 Top Analyzer
Top Analyzer will provide you with a valuable insight into the TOP 10 results for your targeted keywords.
With Top Analyzer you will always be on the top!
Top Analyzer: video overview
HOW DOES IT HELP? WHAT WILL TOP ANALYZER DO FOR MY BUSINESS?
How does Top Analyzer help?
Top Analyzer helps to take a closer look at the TOP 10 websites that are ranked for your targeted keywords. For each result, this tool provides title and description, the number of backlinks, and much more. Top Analyzer is a must-have tool for high-quality competition analysis.
With Top Analyzer you can easily analyze complex data in just a few minutes without using any additional software.
IS SITE AUDITOR FOR ME?
Top Analyzer can be used by any kind of business. However, it's especially useful when it comes to conducting a thoughtful competition analysis. That's why this tool is best for inbound marketers, SEO/SERM agencies, and business owners.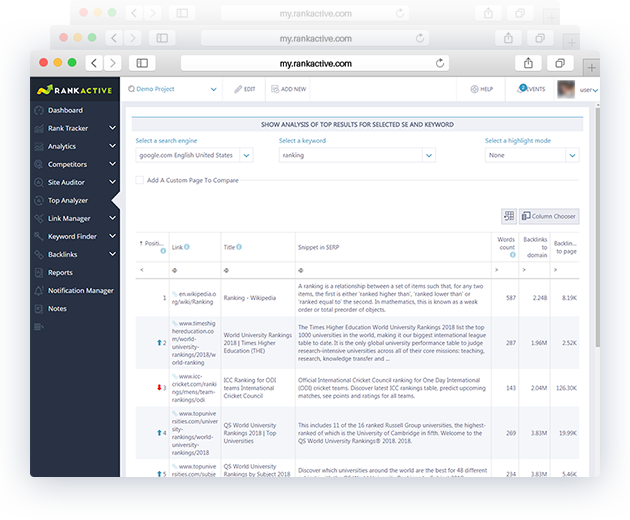 See It In Action
A picture is worth a thousand words.
See how Top Analyzer can help to win the competition!
AMAZING FEATURES THAT DRIVE SUCCESS
MOST POPULAR SEARCH ENGINES
Get Top 10 results for the most popular search engines, including Google, Bing, Yahoo, and Yandex.
ON-PAGE ELEMENTS
Get on-page essentials for Top 10 website: title, description, meta tags, canonicals, Frame/Flash elements, and more.
PAGE SPEED ANALYSIS
Check how long does it take to load Top 10 websites.
BACKLINKS INSIGHTS
Figure out how many backlinks Top 10 websites have.
HIGHLIGHT MODE
Top Analyzer highlights exact-match keywords found in titles and snippets of Top 10 results.
QUICK RESULTS
Select your targeted keyword, choose a search engine, and get results in a matter of seconds.
TRY OUT THE MOST EFFICIENT SERP ANALYSIS TOOL!
Give your website a boost today!