Featured Snippets: How to Rank for Them?
16 August 2017 George Svash Leave a comment ALL-HANDS SEO
Over the past several years Google has been improving the way it displays search results. We've witnessed the significant shift towards the advanced usability and enhanced user experience. On the other hand, some of the newest Google's developments have offset some conventional SEO practices, opening up new opportunities. One of the latest stands out as the handiest and most relevant: featured snippets.

Unlike Google ads, backlinks and almost every SEO tactics used by WebMasters to rank in Top 10, featured snippets don't rely on budget levels and search engine optimisation expertise. Google claims that it's open for everybody and all it takes is an outstanding piece of content with an answer to the relevant user's question.
At the same time, as usual, Google's team doesn't disclose a single point of the algorithm, creating numerous speculations on the determining which pages are to be marked as a featured snippet. There are a lot of brilliant articles, studies and presentations covering this topic. Nevertheless, the question of obtaining featured snippets remains open. We spent many sleepless nights looking for a qualified answer. In this article we'll share some of our findings, that might help you to learn the ropes of featured snippets and how to rank for them.
Before you go any further, we'd like to briefly explain what featured snippets are and what makes them an essential part of any SEO strategy.
What is Featured Snippet?
In simple terms, a featured snippet is a short answer to a user's query. There are several types of snippets depending on the query:
According to the statistics, paragraphs occupy 60% of all featured snippets on the Web, while lists and tables hold only 29% and 11% respectively. It should also be noted that although snippets often rank in the top, there are few exceptions. When Google first enrolled this feature, featured snippets always occupied the number one position. It was so common that we all called its place in a results page "position 0." Nonetheless, today snippets are starting to fight over the number one rank with shopping boxes and other SERP elements. At the same time, recent studies have shown that almost 96% of featured snippets take the very first positions on a results page.
You may wonder how come Google gets featured snippets. Well, it's obvious that they don't pick them manually. There are already more than 200,000 snippets on the Web, and the number is rapidly growing, so it would be quite difficult to hold such a great deal of work 🙂
The overall process apparently starts with a comprehensive analysis of user's queries. And then сomes the magic part. Some algorithm extracts the piece of info from a relevant web page and puts it right on the top of SERP. Some would find this part quite unfavourable, suggesting that it can cause a tangible reduction in traffic of the corresponding resource. Well, it's simply not true. In fact, featured snippets can dramatically increase the click-through-rate of pages that are ranking for them. Based on our experience, snippets are able to raise the CTR up to 6%.
The problem that causes so many speculations around this topic is that the featured snippets are tricky. You earn one today, but it can vanish overnight. Google doesn't provide any hints, and it seems like they are just having a laugh watching endless debates on how to get ranked for featured snippets.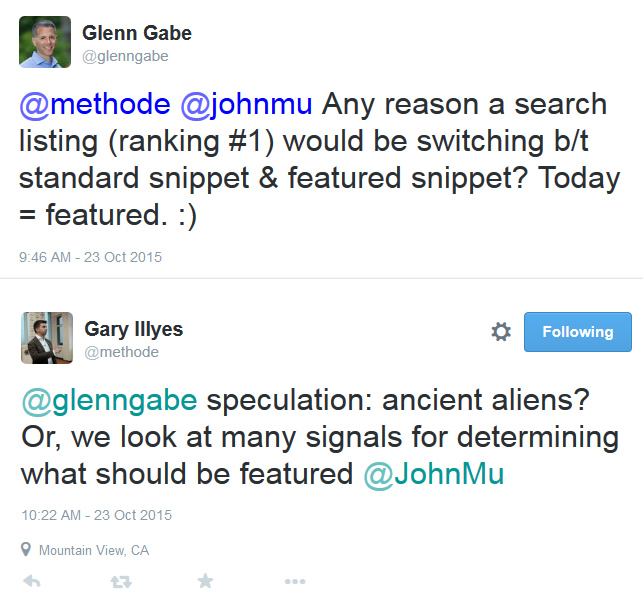 However, we've conducted our own research on possible signals that Google may use when determining the source of the featured snippet. Our team has found 7 points that are likely to come into play. Let's try to emulate the whole process using free tools available on the Web.
1 Direct question in user's query
Featured snippets are dedicated to providing a full answer to users' queries. At the same time, however, queries for featured snippets have to be articulated as direct questions and contain particular wh-words, such as who, why, what, when, etc.
2 Query volume
This factor is very likely to come into play, even though we have no idea on how many users should put a particular query to launch the featured snipped selector algorithm for it. We've used Google Trends to determine the volume of the "how to cook rice" query.
3 The piece of content containing the answer
We don't yet know what strings Google pulls to determine whether the page contains a precise answer. Supposedly, things like title tags and keywords may play a crucial role. We've selected this example because it has an exact match with a query in its title and has a good reputation on the Internet (we will expand on this issue in the following paragraphs).
4 The authority of the page that the relevant content is published on
Page authority is probably one of the most important signals for the selection of snippets. To check out the authority of the page, we've used the Link Manager tool from RankActive. Authority of the page shows how well a particular page may rank on SERP. In this metrics, scores range from 1 to 100, with a higher score corresponding to greater ability to rank.
Domain authority is 46 out of 100, which is well above average.
5 Bounce rate of the destination website
According to Google, bounce rate is "the percentage of visitors to a particular website who navigate away from the site after viewing only one page." This major ranking signal is very likely to be used when determining the source of the future featured snippet. You can use RankActive's Competitors Inspector to check the bounce rate of any website. In our case, it's equal to 70.81, what is higher than the average score.
6 The time users spend on the destination website
This metric is often called "dwell time" or "time on site." You can find it in Google Analytics. However, this option is restricted to your own website. We don't own domain bbcgoodfood.com, so the best we could do is to use Competitors Inspector one more time.
As you can see, the average dwell time on this website is 1 minute 23 seconds. We wouldn't say that such results are outstanding, but in our case it turns out to be good enough to rank for featured snippets.
7 Location and language of a user
Some featured snippets might be location-specific. For example, these are results pages for the same query, from Google UK and Google Taiwan.
As you might have noticed, featured snippet is displayed on the results page for the United Kingdom, but missed on the one for Taiwan.
Now, when you've discovered the signals that might be behind featured snippets, only one question remains open: How to get featured snippets?
Although there is a plenty of factors involved, we've found several solutions that – based on our experience – would eventually give you a couple of desirable snippets.
Know what your readers ask
Do your visitors ask questions or words? The answer is obvious, we all ask questions. So why don't we start targeting key-questions instead of keywords?
Redesign your content and make sure that it answers questions your visitors ask. For example, instead of using the keyword "SEO," one can go for the more specific "how SEO works." The piece of content that follows the question is more likely to rank in the featured snippets.
There are several ways to find such searches. First one in the good old Google search box. Just type a question that you think your visitors are probably asking. Find a free spot and try to get it.
Another way is to use the special tool to articulate questions related to your target keywords. For instance, you can try the Answer for Public tool. It'll save your time and create a stunning graph with all possible queries:
Create an outstanding content
The quality of content plays a major role in every successful SEO strategy. Featured snippets are obviously not an exception.
Moreover, a page that doesn't meet ranking requirements won't get featured in the snippet boxes. The thing is that even though featured snippets can get you to the "position 0," they don't bypass the basic ranking system of Google.
Make sure that your content is not only answering the question but also user-friendly, comprehensive, entertaining and written in the plain language. It's a good idea to make lists of tips and write guidelines that will help a user to handle an issue they're asking about in queries easily.
Use Q&A pages
No doubt, question-and-answer pages have a great impact on your chances to get featured snippets. The thing is that on such pages you provide answers to visitor questions in the same wording searchers would use. Moreover, content of Q&A section is already divided into parts, each of which is answering a particular question, what makes it much easier for Google to highlight an answer and put it into a featured snippet. Thus, your Q&A page is able to really improve your chances of making it into a featured snippet.
Despite that, the presence of the question-and-answer page alone may not get you to the front page. In fact, irrelevant questions and incomplete answers can even drop your rankings. So when structuring your Q&A section, make sure that you provide valuable answers to up-to-date questions. Remember that content on such pages should also be user-friendly and entertaining. Don't hesitate to embed few videos and put infographics, visitors will appreciate your efforts, and it won't go unnoticed by Google.
It's a good idea to include few keywords into the answers. Nevertheless, it's a very bad idea to overuse them. Keyword stuffing is a bad strategy. Once you cross the line, Google can penalise your website, and you'll probably watch your rankings sink. The same applies to links usage. You may want to link a couple of handy resources to provide your visitors with the more-in-depth answer, but make sure it's not transforming your website into the municipal library 🙂
Conclusions
As search engines pay more and more attention to user experience, featured snippets will keep gaining importance. This goes hand-in-hand with numerous developments Google enrolled throughout the last couple of years. Plus frankly, featured snippets have changed the way we see results pages. We no longer need to navigate through numerous pages looking for right answers to our queries. Now Google takes care of the most boring work: takes the most comprehensive answer from the most competent resource and puts it on the very top of SERP.
On the other hand, though, featured snippets have changed the rules of competition in the TOP-10. Things like keywords, backlinks and SEO expertise are no longer playing the major role. At the end of a day, it's the quality of content that really matters. Analyze what your visitors are asking, provide a comprehensive answer, post it on a user-friendly page. Outthink your competitors, and you'll win the game of featured snippets!
Tags: Featured snippets; SERP
Like this article? There's more where that came from.