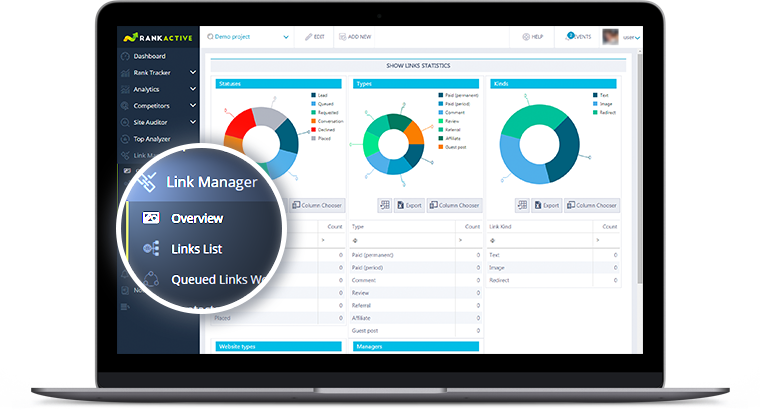 Link Manager
Keep track of your link-building efforts and automate the link workflow with just a few clicks.
Link manager: video overview
HOW DOES IT HELP? WHAT WILL COMPETITORS INSPECTOR DO FOR MY BUSINESS?
How does Link Manager help?
Link Manager helps to optimize the link-building workflow and make link-monitoring much easier. This tools offers a ready-made solution for link builders. Add a link manually or import the bulk of them at once from CSV file, assign them a status, and pick a manager who is responsible for the process. You will also get the most important data for each of your links such as the trustworthy value of the page, citation flow value, the number of external backlinks a referring domain has, spam score, a page and a domain authority.
With Link Manager your link building will become painless and lightning fast. This tool can save loads of time, so you can focus on high-priority SEO tasks.
IS LINK MANAGER FOR ME?
Link building is one of the most time-consuming parts of SEO. Link Manager makes it a lot easier. That's why this tool is particularly useful for those who are faced with dozens of important SEO tasks everyday. Whether you are a savvy business owner, or a huge marketing agency - rest assured that Link Manager will work for you.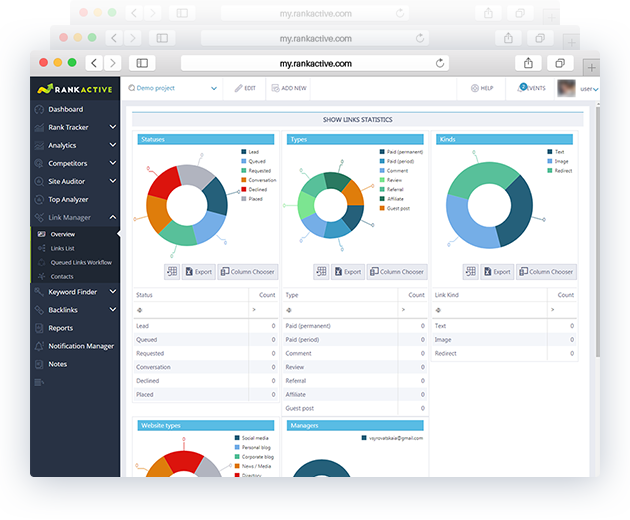 See It In Action
A picture is worth a thousand words.
See how Link Manager can help to supercharge your link building efforts!
AMAZING FEATURES THAT DRIVE SUCCESS
EVALUATE LINKING OPPORTUNITIES
Get essential information about sites you want to place a link at such as Citation flow, Spam Score, Page and Domain authority, etc.
MANAGE LINK-BUILDING PROCESS
Monitor the whole process of link building from discovering a new linking opportunity, and to the moment when Link Manager confirms the placement of the link.
LIGHTNING FAST LINKS IMPORT
Import the existing links from the CSV file and start evaluating essential data in just a few moments.
ALL CONTACTS IN ONE PLACE
Save the contacts of websites owners at Link Manager to easily request a link and estimate linking opportunities with valuable metrics with a single click.
LINKS CHECKUP
Check if your backlink is active to make sure that website owner didn't remove it.
CONVENIENT ESTIMATION OF DATA
Link sources can be conveniently segmented according to their types: social networks, blogs, news outlets, etc.
TRY OUT THE MOST ADVANCED LINK MANAGEMENT TOOL!
Give your website a boost today!