Product announcement: Brand monitor is launched!
17 February 2016 Nick Chernets Leave a comment Whats new
As an entrepreneur, one of the biggest challenges you will face will be building your brand. The ultimate goal is to set your company and your brand apart from the crowd. If you form a strategy without doing the research, your brand will barely float – and at the speed industries move at today, brands sink fast.
We all know that success of every business can be estimated by the brand strength. Loyal customers can generate the biggest share of the business total profit. Dissatisfied customers will pull down the brand. It is important to devote time and efforts to monitor brand citations, to increase the loyalty of existing customers, to convert dissatisfied customers into loyal customers.
What do customers write about your brand on the Web? How to respond to negative mentions quickly? What dynamics of citations of your brand on the Web is? We know the answers!
We've launched the brand new product as a part of All-in-One Platform for SEOs: Brand monitor!
1

How will it help you and your customers business?

Brand monitor helps you to understand:
Where and when users discuss your brand
What resources have reference to your brand
Where can you turn citations into active backlinks
Brand monitor crawls the whole Internet: Web pages, blogs, news, social networks (Twitter, Facebook, LinkedIn).
With URLs that Brand monitor will find, you can make quick decisions: respond to users, request active backlink from an author, contact with the dissatisfied customer, change your content marketing strategy etc.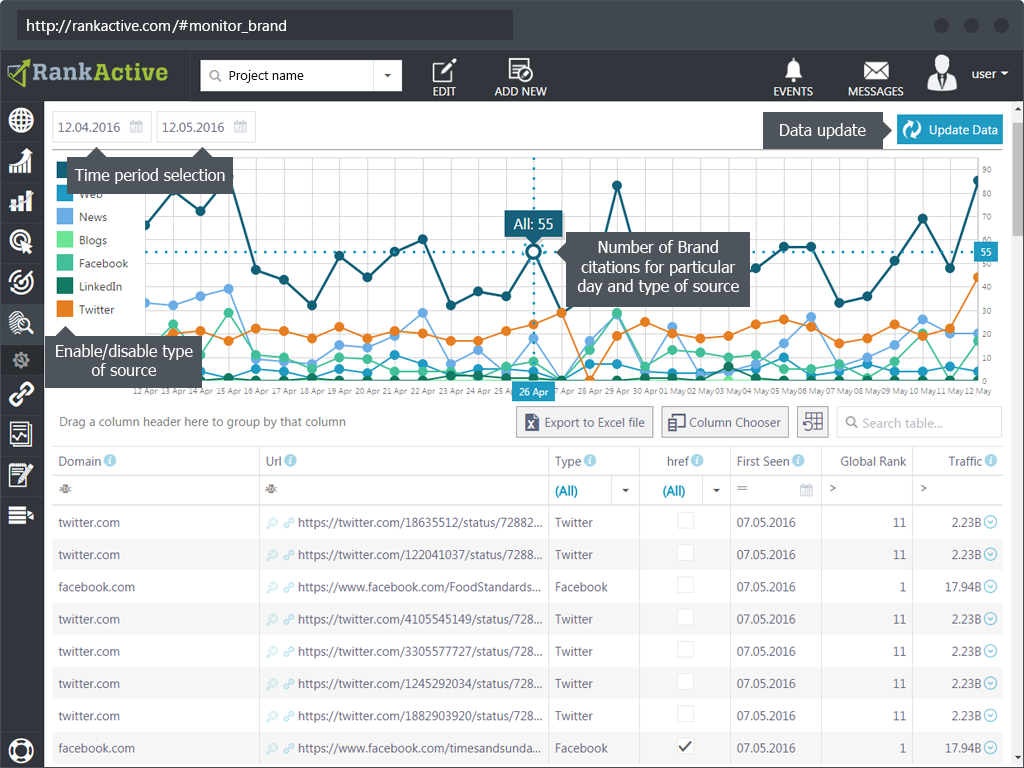 2

Main features of Brand monitor.

Brand monitor is a useful tool in your inbound arsenal. It has great features:
Crawling the whole Internet: Web, blogs, news, social networks (Twitter, Facebook, LinkedIn);
Permanent scanning: crawling the Web for the brand mentions and citations 24/7/365.
Ability to set up custom keywords for scanning. By default, we scan your brand for two keywords. If your domain is: example.com we will scan the Web for keywords: "example" and "example.com". You can add one additional keyword to scan or change any of the existing.
Link checker: our crawlers scan reference URLs with a mention or citation and check website HTML-code. You can easily gain new backlinks from URLs where your brand is mentioned, but don't have active hyperlinks.
Traffic of referring domain: you can see estimated traffic value of referring domain in the table. Data is imported from SimilarWeb.
Global rank of referring domain: this value shows an overall traffic score of referring domain.
Dynamics of brand mentions on the graph over the time. You can also turn on/off specific types of references, for example, you can view only Twitter and Facebook dynamics on the graph.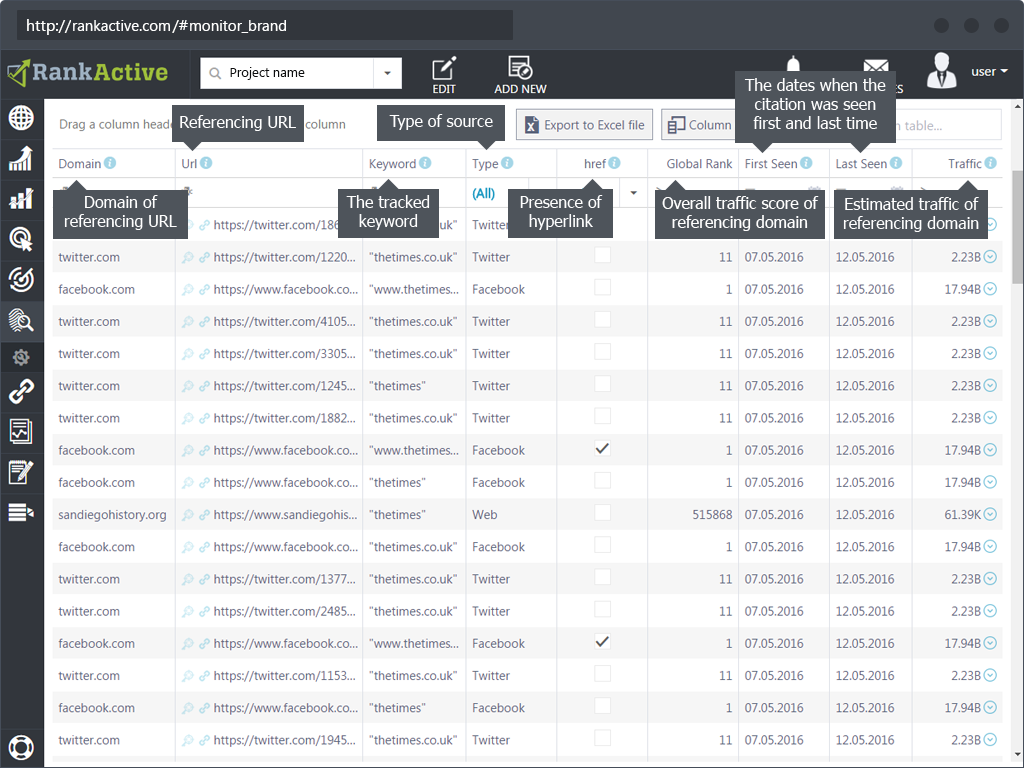 3

How it differs

Before we decided to develop this product we had analyzed dozens of competitors which offer "brand monitoring features". It wouldn't be correct to talk about specific projects, so, just facts 🙂

As for social networks, most of the competitors use only Twitter to track brand mentions. It is not surprising, because Twitter provides very simple and open API. In fact, it took only 5 hours for our developers to create integration with Twitter 🙂 We monitor NOT only Twitter, but also Facebook and LinkedIn.

A lot of other related products will make you wait for several hours or even days before you can see some data. It's not our way. Just create a project and in a few minutes, you will start receiving information related to your brand.

Active links finder is the unique feature that is not supported by any other competitors. Use it to create new backlinks.

Don't want to wait till next rescanning to get the freshest data? Ok! Just click "Update data" button and in a few moments, you will see all information in real-time. At a time when competitors spend up several days to track brand mentions, we are ready to provide the freshest data in real-time!

Nowhere else you will see such comprehensive data for referring domains. We provide quick analysis of data source on the fly. You can see estimated monthly traffic of referring domain and its backlinks profile authority in the data table. You can set priority of your tasks quickly, for example, if you have a negative mention from the resource which has a million users per month, then you must handle it with more priority than a negative mention of someone's home blog with few users per month.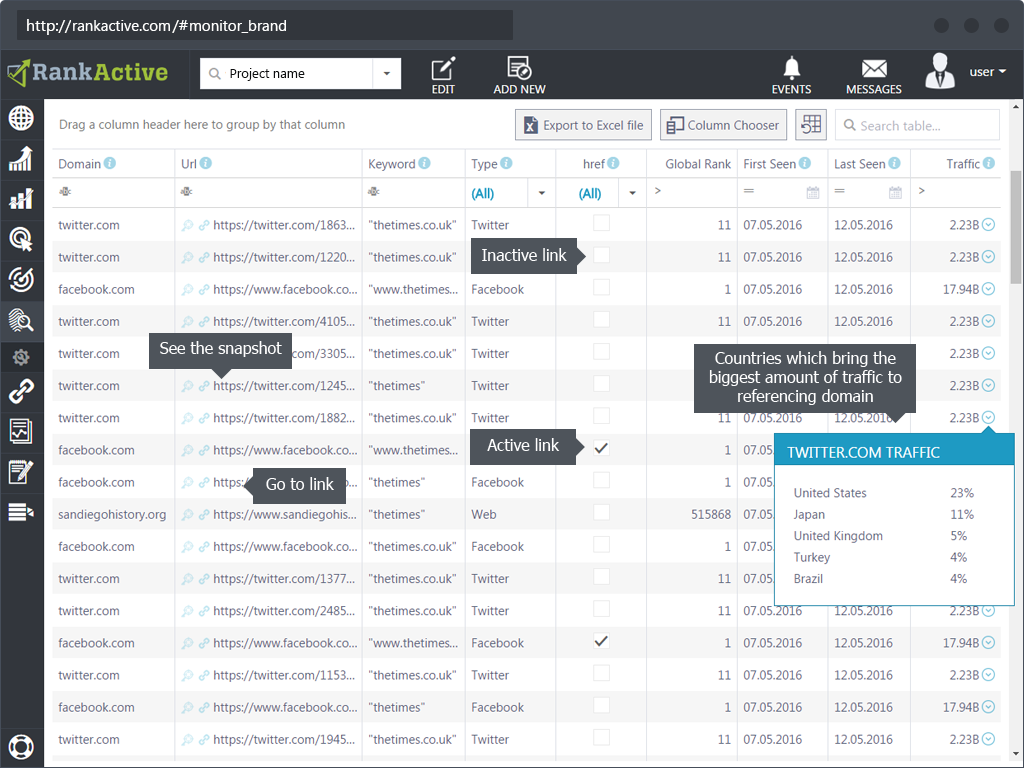 Whom is Brand monitor for?
Brand monitor can be used for any business. For every website.
But It is best for:
Inbound agencies and marketers;
SEO/SERM agencies and freelancers;
Social media experts and agencies;
Business owners.
What's next?
In next few months, we will collect users' feedbacks to understand how we can improve this product in future and how to make your work more convenient. If you have any ideas of how to improve the Brand monitor product? Share them with us!
Where to see it?
If you are a registered user you can see it in left menu of interface. Login to RankActive.
If you are just discovering the product and want to see demo, click here.
Please note that Brand monitor is available for Optimal and higher plans. See Pricing.
Like this article? Please share!
Tags: brand monitor, whats new
Like this article? There's more where that came from.